Online car service booking app: Many people all over the world drive regularly, and car services always come in handy. Today, the digital world is growing fast, and one of the leading trends is website and app development for auto services.
There are plenty of ways to build and monetize such a piece of software. If you want to create your own car service app software or website? Read about features, business models, technologies, and other things you should consider before discussing your idea with a team of IT professional.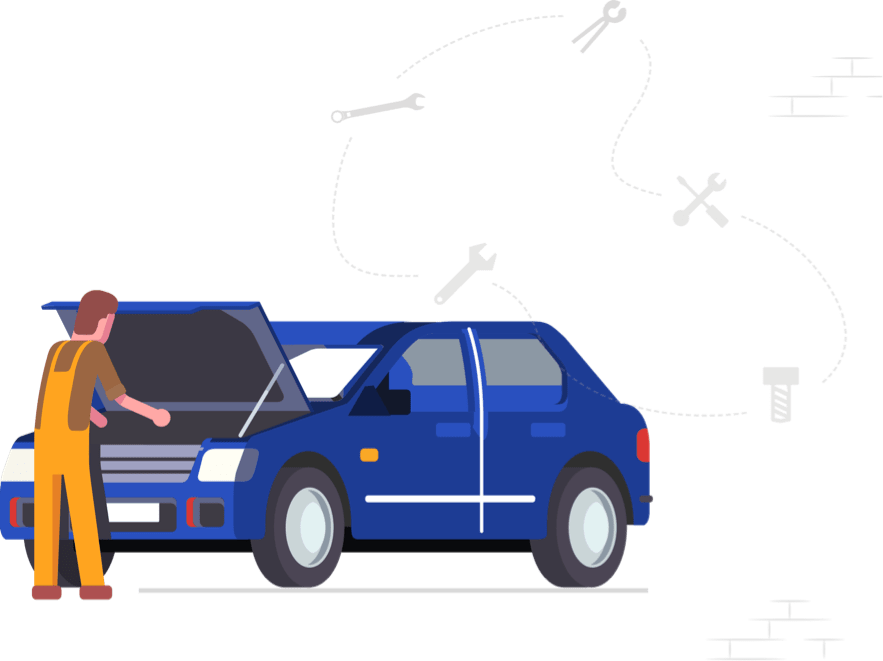 On-demand car service apps are so popular because they perfectly fit in customers' needs and resolve pain points. The most popular car service apps make millions of US dollars annually.   
Online car service booking app benefits for a customer:
Convenience to use an app.
Finding malfunctions in a car before they become critical.
Increase of a cars safety, financial value and good condition.
A wide range of services available in one app, anytime.
Discovering new information about a cars repair and functioning.
Reasonable prices and eventual reduction of a cars maintenance costs.
Car service booking app benefits for a workshop owner:
Access to new clients, particularly those who you wouldn't find through other channels.
Perfect marketing opportunities – a car service app enables you to study clients' needs and behavior, collecting all the statistics.
Maximized efficiency – an app makes order approval and other processes automatic.
Additional advertising of your car service business, either a startup or a well-established company.
Sending notifications to employees and customers, providing them with necessary information.
Opportunities to foster your audiences trust.
Giving your clients the best user experience and keeping them engaged so they would use your app regularly.
In a nutshell – if you build a well-designed app for your car service business, it will help increase productivity and sales, engage more potential clients and providing upgraded services for the existing ones.
A car service app typically works in two ways:
A client places an order without knowing what's wrong – a mechanic visits a client to do a cars diagnostic and create a quote – your specialists fix malfunctions – a client pays safely via an online car service app.
A client places an order asking to do specific maintenance jobs or fix particular malfunctions – your car service app sends a fixed quote – mechanics visit a client and do jobs – a client pays safely via an online car service app.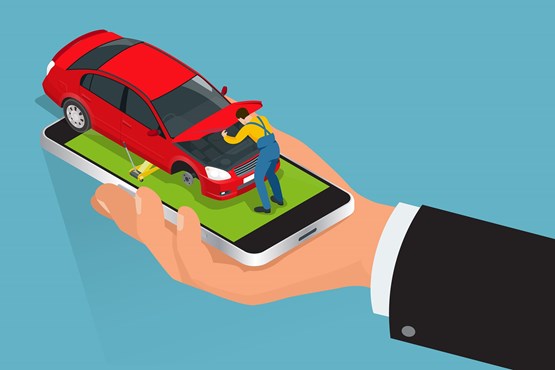 When you create a car service booking app, it can be supported by a physical auto repair shop or simply work on demand. In any case, make sure to hire experienced mechanics who can service all types of vehicles and fix issue of any difficulty, from an oil change to brake repair. ASE certification is also important when you build a trustworthy car service business.
When you create a car service booking app, you can use 5 monetization strategies
Premium subscription:
You can expand your apps functionality and make specific advanced features available only by paid subscription.
Service fees:
This, way you charge your clients for the performed jobs.
Special listing:
You place some car workshops in specific section so that they become more visible for your apps users. Businesses pay you for this premium advertising.
Commissions:
This strategy will work perfectly if you create an aggregator app for different car service centers. They will pay in two ways – monthly fees for being on your app and a fixed commission for each time a client orders any service.
Advertisements:
In any online car service booking app, you can sell space for other company's related ads (e.g. car rental, electronic spares, devices and suppliers, different types of automotive apps, car oil, and many more) it begins to work as soon as your app gathers consistent traffic.
Necessary features for a car service app:
Signup/login:
You can use phone or email signup combined with social login.
User profile:
To add and edit information (address, payment data, a cars parameters).
Company's profile:
Allows to create a description of a car service center or workshops.
Mechanic's profile:
Contains useful information about each specialist.
Search:
We suggest adding filters and geo location so that a customer could use your app to find the best workshops nearby.
Select service:
A customer can choose from the list of a company's offers.
Book an appointment:
This feature enables each client to place an order and contact a car service center.
Offers and discounts:
Enables special programs for clients and helps your car service booking app or website raise sales.
GPS tracking:
Allows customers to find mechanics nearby and monitor real-time update of an order.
Buy car parts:
Enables ordering spares via your app.
Cost calculator:
Helps customers estimate the price, which allows any car service booking app to demonstrate transparency and build trust among customers.
Payments:
You should build this feature for any type of a car service booking app and make the procedure secure and quick.
Reports:
You should create this feature on your car service app software so that customers could see detailed information on the completed works.
Rating and reviews:
This features is helpful for an aggregator car service booking app. It helps customers praise their favorite companies or mechanics and quickly find the best options.