Telemedicine app development: Telemedicine is the trend of the decade. In 2019, the global telemedicine industry was valued at $41.4 billion and was expected to rise at a CAGR of 15.1% over the next five years.
Telemedicine has never been in more demand and with COVID-19 disrupting human life. Are you a doctor, clinician, or healthcare provider who's struggling with cumbersome clinical processes? A telemedicine app could be the solution you are looking for.
What is a telemedicine mobile application?
Telehealth system or telemedicine refers to the distribution of health-related services via internet. It enable the patient to medical provider to connect each other without being physically present in front of each other.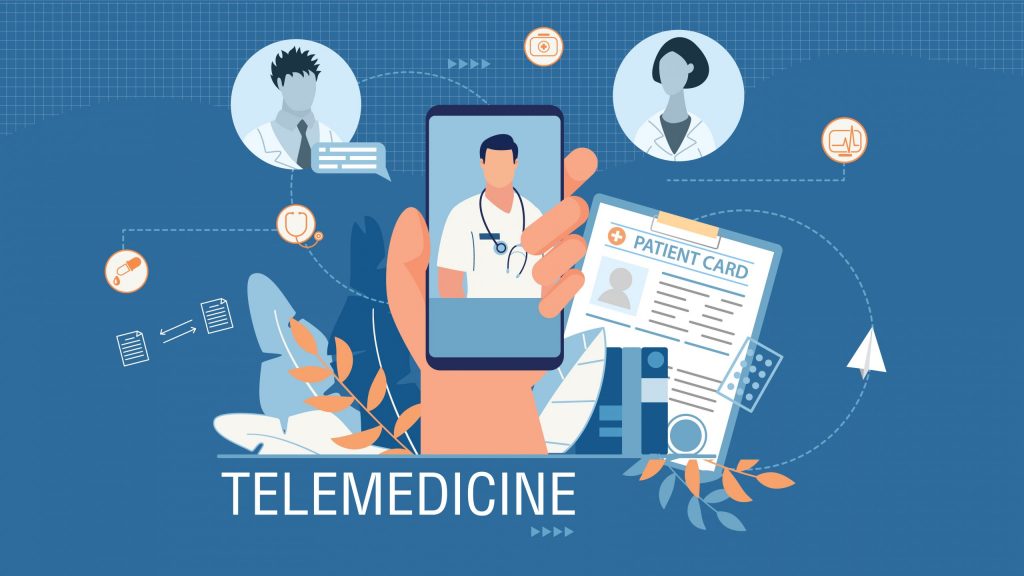 A telemedicine app provides a platform to leverage telemedicine technology. This telemedicine app allows patients to receive medical treatment in the comfort of their home. On the other hand, medical specialists can provide treatment to the patient and get paid without sitting for long hours in clinics and waiting for patients.
The technology used in a telemedicine software platform
Telemedicine applications can vary depending upon their features and functionality. A doctor can use a telemedicine app and share it with the patients to provide them treatment over the internet. Or a digital transformation solution for healthcare can be used to create an integrated ecosystem, where all registered doctors and patients.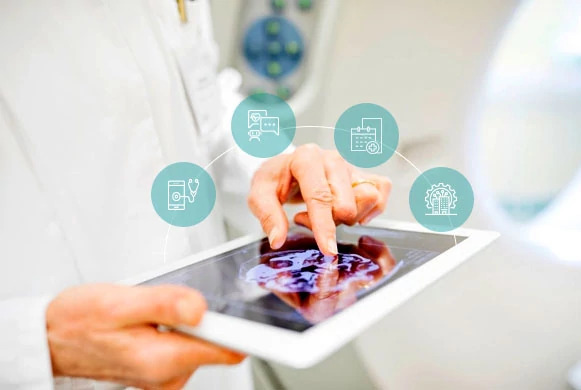 A telemedicine app using technology is also depends on the functionality. And it can be simple application that connects doctors with patients. Most telemedicine applications are based on the following technologies.
Artificial intelligence:
Nowadays AI is one of the biggest technology trends, and it widely used in the healthcare IT industry. Telemedicine app use AI-based language chatbots, processing and voice recognition to provide a customize experience to the patients. These applications also use machine learning to help doctors make faster and more correct decisions about a patient's treatments.
Big data:
Healthcare is a data-driven industry. Healthcare providers need to process, store, and analyze copious amounts of big data computations to evaluate patient's healthcare records. Telemedicine applications use big data to provide correct diagnoses and improve treatments. 
IoT:
Telemedicine apps are often connected to other electronic devices, like medical kiosks, tablets and digital cameras. IoT technology allows these apps to interact with multiple devices and facilitate diagnosis, medication adherence, treatment suggestions, and more. IoT enable the integration of medical software and hardware, thereby improving overall patient care.
Block chain:
Healthcare organizations deal with sensitive patient information. Telemedicine apps use bockchain to exchange and store medical data quickly and securely.
Features of telemedicine application
A full-fledged telemedicine application consists of robust features for both patients and doctors.
Features for doctors 
Accounts:
A doctors can sign up and log in with their email ID and phone number. Most applications contain an in-app verification system that verifies the doctor's license before creating an accounts. A doctor profile contains all the crucial information about the doctor, such as their experience, qualification, expertise, etc.
Communication:
A typical telemedicine app offers text and video chat functionality. These features allow patients and doctors to interact with each other effectively.
Scheduling:
Telemedicine application allow doctors to mark their valuable hours and make it visible to their patients. It would let patients check when a doctor is available for consultation and appointments.
Patient records:
Before the consultation to provide better treatment, a doctor can check the patient's health records.
Features for patients
Signup:
Similar to patients, doctors can also create their profiles on the telemedicine system platform. They can add their medical history to the profile, such as existing health condition, pat history and ongoing treatments.
Doctor profile:
Patients will be able to access doctor's profiles, their qualification, and appointment time to book appointments. They will also be to see rating and reviews of each doctor.
Appointment:
Patients can go to the doctor's profile and book appointments in single click. In addition, user can also modify or cancel their appointments.
Communication:
Patients can communicate with doctors via in-app calling and text messaging features.
Search:
A telemedicine application provides patients with search functionality. They can search for specialists such as Gastroenterologists, Neurologists, etc. as per their requirements.
Seamless payments:
Telemedicine applications features multiple payment gateways. Patients can make payments through different payment channels like PayPal, Stripe, etc.
Cost of telemedicine app development
The cost of developing a telemedicine app is variable and it can depend on several factors. Some of these factors include:
Technology used
Features required
Hourly/per-project rate of the developer
A telemedicine app can be simple that it allows only appointment bookings as discussed. On other hand, it creates an ecosystem of doctors and patients that it can be so complex. The cost of developing a telemedicine software can depends greatly on the type of features and functionality you are seeking. The same goes for technology.
A typical telemedicine app development requires programming languages, servers, database, frameworks, and more. Nowadays, emerging technologies like AI and Bigdata are also becoming a part of healthcare IT. So, the more will cost for the more technologies capabilities you want in your app.