Get Taskrabbit Done With Your Household Work: Business Model & Revenue Model
We live in the world to need more new technology to fulfill their requirements every day. We also the have right choice to get all that we want. Our minds ask us whether there is an app that can do that task for us when somebody wants something done or needs to buy something. 
What is taskrabbit?
Taskrabbit is a double-sided marketplace that connects between the taskbuyer and taskposter in taskrabbit. A network of a pre-approved and background checked private, who have the time and skill required to complete the listed task.
Taskrabbit is a good choice for people with more money than time. It allows people to run small jobs to outsource tasks to others in their neighborhood. The main aim of taskrabbit is to help people take back their lives, be their own boss for their business, help people out, and make some money.   
About taskrabbit:
It was introduced in the year of 2008 and was made available on Apple devices. Although the taskrabbit saw some tough times in its initial years because of the customer mindset, it soon gained popularity. In 2011, the company received funding and that's when it actually took off.
The taskrabbit generated around $5.7 million in revenue and gathered funding of $37.8million till then, as per the 2019 report. In 2020, the taskrabbit has more popularity. It had more than 1,40,000 taskers and more than 60% of these were millennia's. 
Features of taskrabbit:
All the on-demand apps need to have certain features in order to satisfy its customers. Here are some features of taskrabbit,
Creation of a marketplace: Taskrabbit has been able to create a marketplace filled with companies, freelancers, and agencies. This workforce residue is what the whole system depends on.
Geo-feature: Its allows the customers to see how far the tasker is and how long they will take to get rich.  
Availability to select a category: Taskrabbit allow it customer to select a category of tasks they need to get done.
Booking history: Its allows customers to check previous service bookings and take a look at the reviews, payments, etc.
Well, though-off design: The customers open the on-demand app and see a screen where they can select the category.
Online payment: Taskrabbit also allows customers to make online payment.
In-app chat: Customers can chat with them to discuss the details of work as well as the pricing before selecting a tasker. This help is assuring that there are no problems while doing the actual task.
Push notification: These ensure that the customers are engaged in the app. Push notification are available for both task poster and tasker.
Taskrabbit timeline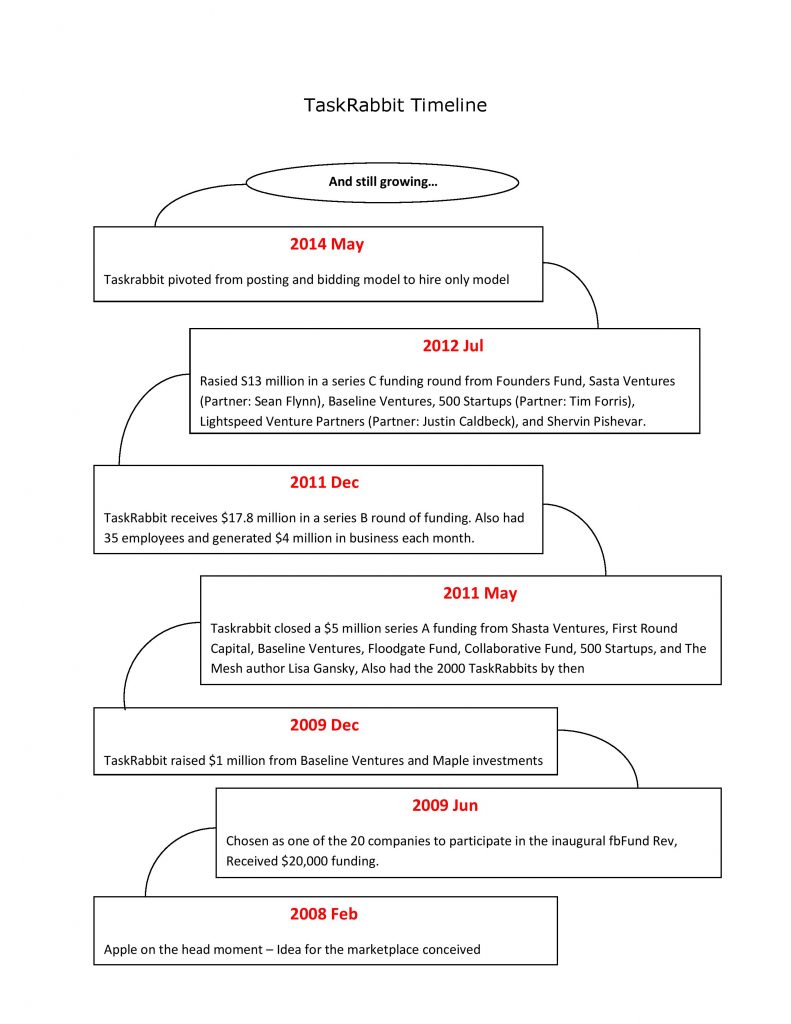 Taskrabbit business model:
Apps like taskrabbit act as a mediator between the people who need help and the people who are willing to work for some extra money. In this way, these taskrabbit create a supply of services. Taskrabbit also provides various option for the customers to ensure they can select the person they like best without having to peace as a result of a lack of choice. The splendid thing about this app is the variety of options it provides for both tasker and task posters.  
This business model is generally called the aggregator model, where the company doesn't hold any tangible assets or inventory of its own. The main purpose of this taskrabbit is to connect with each other. This does that by connecting task posters to the best-suited taskers for them while taking the minimum time and effort. When it comes to everyday tasks Taskrabbit is a major player in the market and has been for several years now. The main work done by the taskrabbit like app includes:
Provides customer support to aid their selection process
Build a network and add more tasker on the app
Acting as an aggregator between parties
Keep updating the taskrabbit to make changes depending on the changing needs
Manages the cash flow between the clients and offer an online portal for payment.
How does taskrabbit works?
Taskrabbit has a two-side interface, one is the customer's side, and another one is the tasker's side. The tasker side interface is where a tasker checks the job that has been assigned to people and the other side is where tasks are actually posted.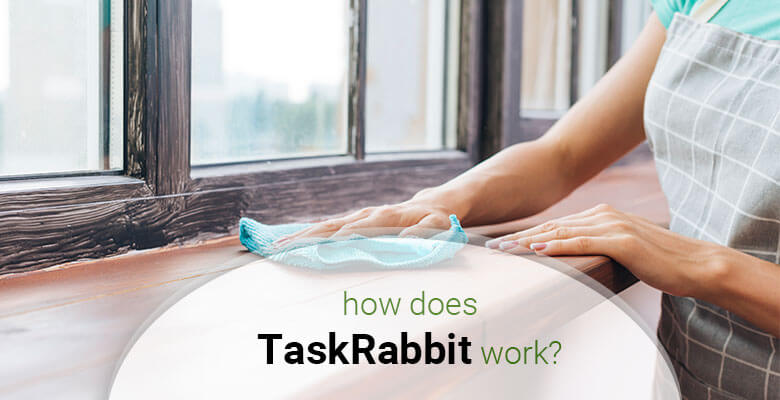 The main app is customers where tasks are posted. Working on this customer app is simple: you post your job with details, you match with a professional and then you finally get the work done. Another way is that you post your requirements and the details and get people interested in your task. The working process is given below.
Select category: Customers can see the various categories of tasks they can post after opening this app and customers can select one of the categories in order to post their tasks. These categories can be divided into moving and packing, cleaning, handyman, and personal assistance, etc.
Add description: Once a customer can select the category, they need to add more description regarding their task. This information includes details regarding the work, address, skill required, time and date for the work, etc. Once you have completely filled all of the tasks, you can go ahead and post your task.
Compare taskers: Once you have posted your task, you will be able to see the various taskers available in your locality who have the skills that you require. You can go straight the list of these freelancers and their details. This means they can compare those taskers and check their hourly rates as well as previous reviews before selecting one. By clicking on their image you can see all the details. Once you have decided your tasker, you can choose them.   
Chat with the selected tasker: Once you decide on a tasker, you can choose the confirm and chat icon. Here, you can communicate with your tasker and swap any needed information. Now it's up to the tasker to either accept or reject your work request depending on their availability.  
Completion of task: Once the tasker is chosen, they will come to your address at the mentioned time to complete the task. Once completed, you can make the online payment through the app.
Taskrabbit revenue model:
Taskrabbit like other apps acts as a middleman between various customers.
Commission fee: The company receives a commission for every task that is completed on the app. This way is one of the most common in which taskrabbit earns its revenue. The commission that it charges is a budget for the platform that the app offers. It is also paid for the insurance, customer support, maintenance, and other services the app offers.
Peak pricing: Taskrabbit can also add peak pricing, if certain services are in higher demand. This is done because the demand for certain services is acutely high during certain times. Hence this ensures that the people who are willing to pay peak pricing get priority.
Advertising charges: Customers who want to be shown on the top of the search pay advertisement charges. This helps them to get more visibility and hence more work.
Trust and support fee: Taskrabbit also adds a 7.5% support and trust fee to each invoice and this money is directly paid by the task poster to the company. This fee is a charge for the company to ensure they can facilitate the exchange and offer support to the task poster.