Online grocery delivery software: Nowadays, people are going to the departmental store or mall for grocery shopping is one of the time-draining and tiresome tasks. So the, customers prefer to buy groceries online.
Let's know about some grocery ordering and delivery software that will help you to know about the online delivery business. Do you know how Instacart made large profits within a short period? Grocery delivery apps are game-changer of the online grocery business.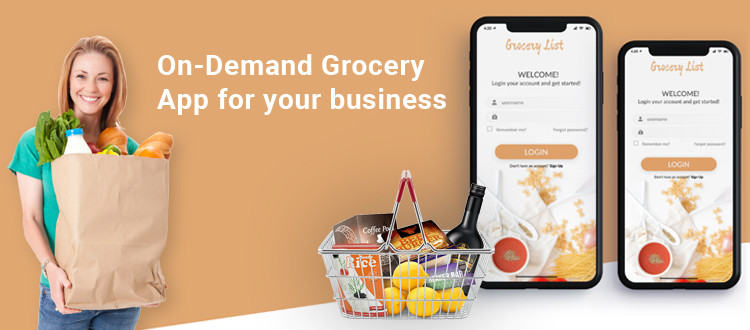 Based on the U.S Census Bureau news, there is a growth of 2.8% in grocery online sales than the past years. In our busy lifestyle, online groceries ordering saves a lot of money, time, and effort. We can search many products without stepping outside.
Reasons for shoppers store online instead of department store:
Making customers comfortable is one of the biggest reasons for online grocery shopping software.
Some factors make customers feel compatible.
1.Time saving option comparing to departmental store shopping
Compared to departmental store shopping we can save a lot of time like traveling time, billing time, product searching time, queue waiting time.
2.Wide range of products and choices
In departmental store shopping based on shop size and locality, prices and products vary. But in online grocery ordering apps a wide range of products and many choices for the same products are available.
3.Price comparison and estimation
Estimating the cost of the total products and comparing the prices of two products is a time consuming process in departmental store shopping. But the online grocery shopping option, these processes are done within a click.
4.Easy returns procedures
All grocery delivery applications are supporting the easy return policies. Customers can return their products at their doorstep with online grocery delivery software.
5.Offers and promo codes
A lot of offers and promo codes are available to save money on online grocery shopping platforms.
Online grocery delivery software statistics
There are 2.7 million smartphone users in the global. User count is increasing day by day. The evolution of online grocery applications is a reason after this enormous growth of entrepreneurs. Interestingly, a different variety of grocery products will reach your doorstep with few clicks on your smartphone.
So, the on-demand grocery delivery app is ruling the grocery market. It is the reason why conventional department stores are moving to online firm.
Some interesting statistics about online grocery delivery
Based on report, online grocery sales in the U.S. will reach $93.83 billion in 2021.
U.S online grocery sales will grow up to 149% by 2023 based on a report.
70% of U.S buyers could use online grocery delivery applications by 2022.
U.S. online grocery business shares will be 10% of the total grocery market by 2023.
Instacart clone now offering delivery options with a minimum commission fee to their retailers.
5% of customers once or twice a month prefer buying groceries online.
66% of customers prefer a cost-free delivery or low delivery cost service when buying groceries online with our grocery delivery software.
Based on the report post-pandemic, 90% of e-grocery customers are comfortable continuing grocery shopping online after the pandemic. The pandemic impact on U.S. online grocery shopping methods.
Conclusion
Customers are more likely to purchase groceries online, and this trend will continue to grow. Statistics confirm that the online grocery delivery business will grow hugely.
Those attractive offers make the customer use the online grocery delivery applications. Launching a grocery delivery app is the best choice to take your business online, if you want to know more about launching your own online grocery delivery business or renovating an existing grocery business. If you are one of the grocery delivery business owners who want to launch a grocery online delivery application, this is the right time to start your online grocery delivery business.