A postmate is an online goods delivery service platform that connects businesses with nearby customers. There is no matter for customers to order what types of items, postmates have got them covered by providing excellent delivery service to the customers preferred destination. Now, postmates have become a brand in the online market for on-demand delivery services.
Postmates have the majority of sales from food delivery, but the company also partners with businesses in the retail, supermarket or alcohol space.
About Postmates:
Postmates founded at 2011 in San Francisco, and California. Currently postmates running in more than 1000 metropolitan areas in the USA. This postmates model is defined as very similar to Uber, but this model allow customers to buy products from local stores instead of taxis right from the comfort of their home.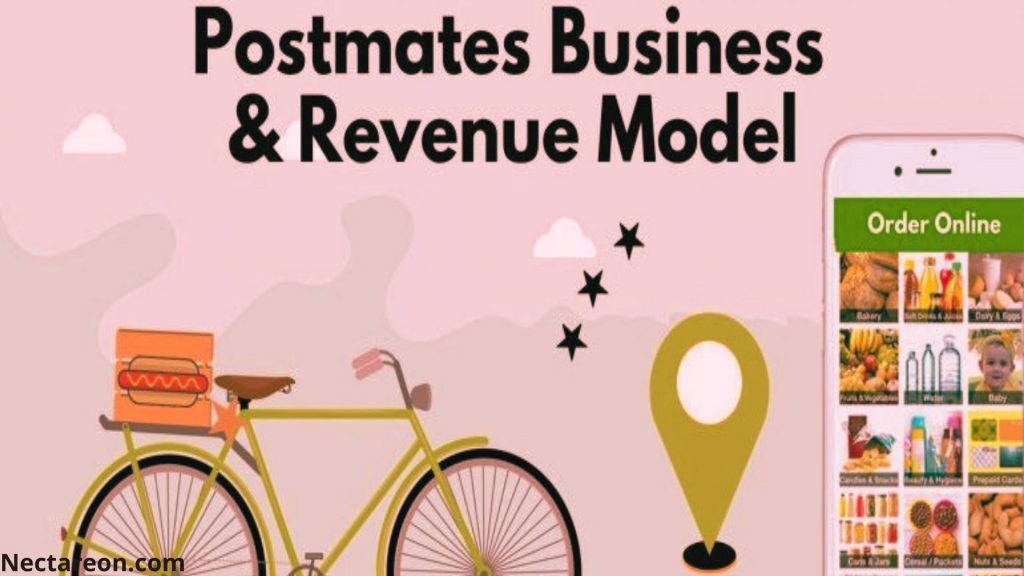 Postmates deliver goods and allow the people to order anything from anywhere in the global with help of their human courier networks. The drivers get alert from the Uber network, similarly postmate couriers receive order notifications and the company uses GPS to balance demand and supply as quickly as it can.
Postmates has a unique business & revenue model and has fetched a good amount of funding from investors and has helped the company obtain a large customer base. Postmate has reached out as a huge success in 4 years after being launched. It has got official tie-ups with Mcdonalds, Walgreens, Apple, Chipotle, Starbucks and many other well-known companies.
Founders, Funding Received and Facts:
Founder: Sam Street, Sean Plaice and Bastian Lehmann.
Company headquarters: San Francisco, California.
Funding received by postmates: $138M (as of November 2015)
Company valuation: $500M
Average order size: $40
Number of daily orders processed: 7500(as of 2015 start)
Postmates timeline: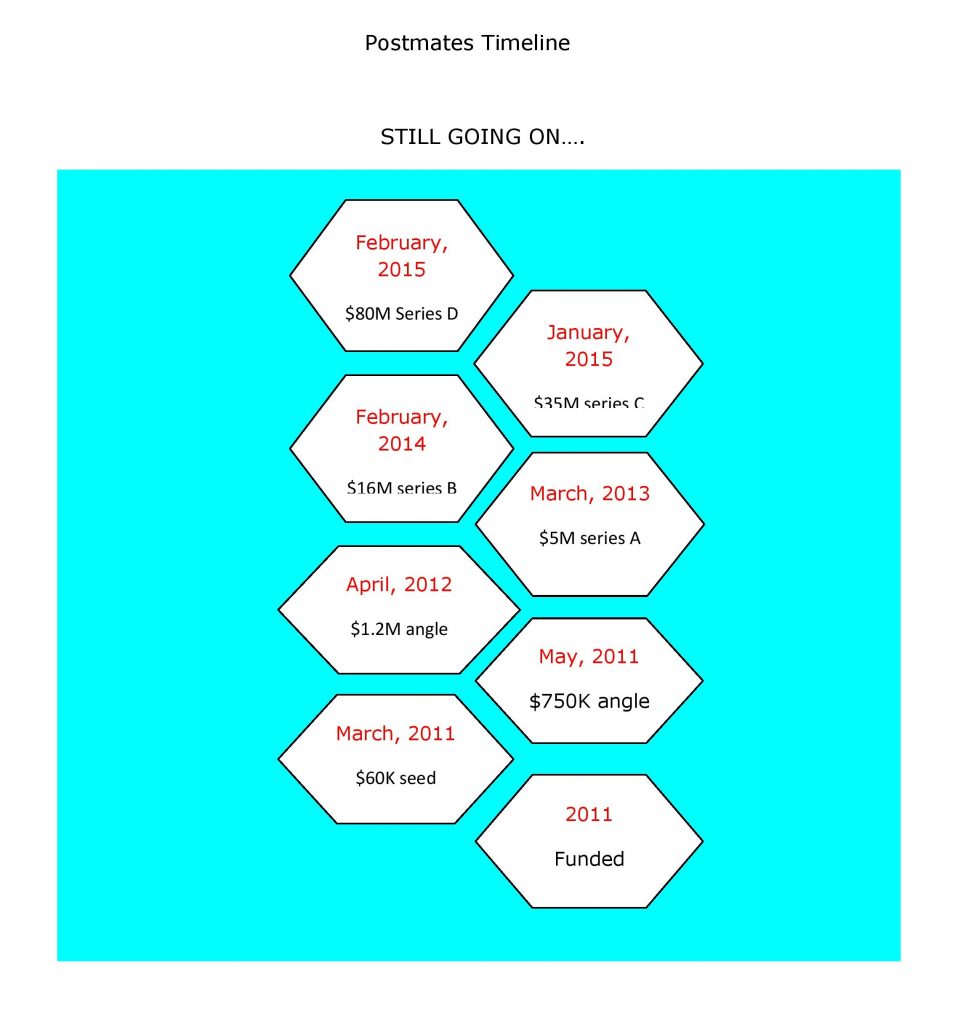 Features of postmates to make them to stand out:
The interesting feature of postmates is the low delivery fee. That based on customer delivery and pickup place. But they recently announced zero delivery fees for customers when they order delivery using postmates.
Postmate speedy delivery system makes them really unique, as they complete almost every delivery within an hour. 
They have offered both a pickup and delivery service in their single interface. 
Let customers order literally anything from the postmate's tie-up store, and the postmate takes overall responsibility for delivering the product.
It also allows the live-tracking of orders throughout the time until customers place. 
Customers are able to order anything and anytime. The delivery will reach them no matter what time of day it is.
Application wise postmates features:
Admin panel features:
Admin login
Application management
Discount offers and coupons
Restaurant management
Technical assistance
Payment management
Store/Restaurant features:
Login
Push notification
Menu management
Checking rating and review
Delivery partner features:
Registration
Order management
Updating the order status
Customers features:
Login
Search menu
Customer support
Cart
Payment integration
Order tracking
Rating and review
Postmates business model:
The popular business model of postmates can have four major steps.
Creating/finding the need: The first step in making money for postmates. Through major technology companies the frameworks have been developed for business that track customer needs.
Making the payment: You can place an order at the time payment shall be made automatically. The delivery fee will be added to the total amount is based on distance between the pickup and delivery place and final result display how much postmates cost.
Matching: After the order is placed by customer the notice in product details is forwarded to the messenger near the shop. When the product is ordered in order to meet the exact needs of the customer and the knowledge is accurately balanced by the recipient. The order must be buy and delivered within an hour at the customer's doorstep.      
Tracking & feedback: Postmates do have rich feature that customers can see where the messengers are with their goods. Customers can also submit their feedback after the orders have been completed. 
Customer relationship for postmates:
Postmate have a good relationship with the customers is to growth for any company inattentive of the size or industry. Postmates is an on-demand food supplier with an excellent customer support service.
The popular social media presence of companies is another way of success the hearts of the masses and postmates has cracked this pretty well. This social network is perfect way to create brand recognition and direct customer followers.
A postmate serves segments for customers, merchants & delivery partners: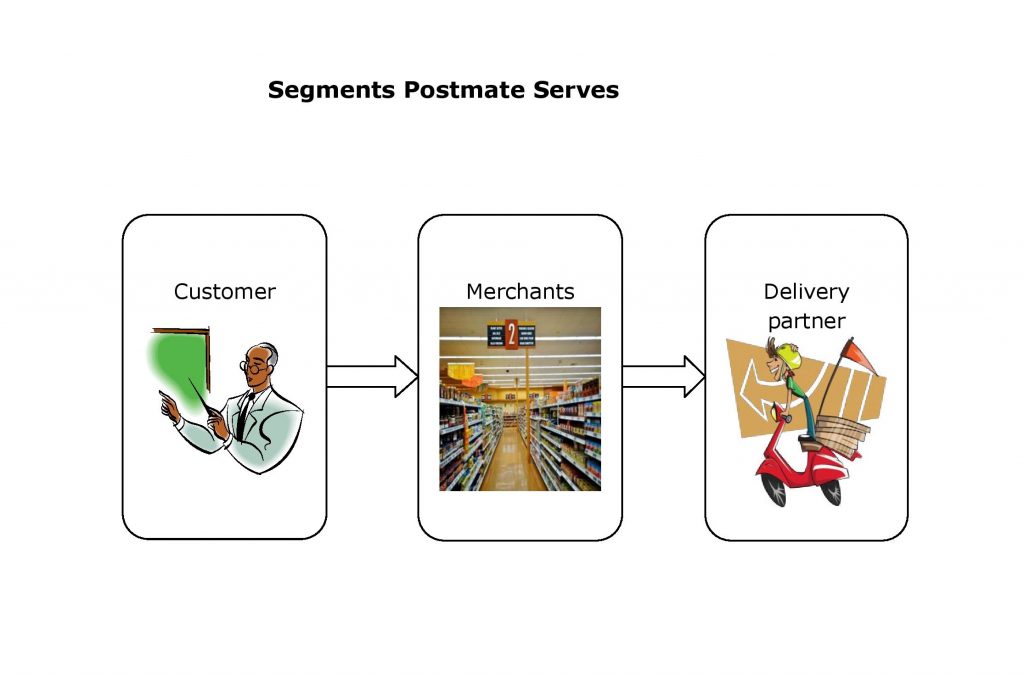 Customers:
Postmates workers work with a more number of general merchants to give a great platform for a huge people. The dealers or the merchants work with are normally more than happy to pay a tiny amount of the total bill to share to postmates total revenue.
Merchants:
Postmates concert with merchandisers and connect them and customers who request their products through their medium. Dealers provide postmates for their door-to-door delivery service a percentage of the order bill. It is best economical way for companies to share part of the buy products in the distribution network alternatively for employing their own staff to carry the items to their customers.
Delivery partners:
The delivery partners are paid out for the deliveries they complete according to the formula for your area. The earning for each delivery,
An amount for each completed delivery
An amount for each completed pick-up
A per-mile rate for the distance between the pickup and delivery location.
A per-minute waited rate for their time you spend at their pick-up location.
The planning of the payments for postmates staff is 80% of the delivery fee for the delivery partner and 20% for the company.  
Pickup model of postmates:
Allow the customers to order ahead they enter the store/restaurant and to pack product/food ready. Following three step explain its functioning,
Order: The customers will buy the food and other goods on the postmates platform when they arrive at the store, the additional fee is not applied to pick-up orders.
Track: The customers get real-time renew on the preparation status of the food they've ordered.
Reach: Customer reaches the store only when their order is ready. Postmates help you when you miss the line and reduce waiting time.     
Revenue model of postmates:
Delivery fee: Postmates charge for a normal delivery fee in every order places. This fee depends upon the delivery and store location and varies. For very short distance, it sometimes gets reduced to $3 or less. The 20% of delivery fee for postmates and 80% are debit for delivery partner.
Merchant fee: Postmates offer the store with delivery service which makes their items reach their customers and hence they charge a particular amount for these services. However, postmates start a new signing an agreements with the partner stores. Its allow them to take a few percentage of the amount from the orders received at stores through postmates.
Convenience fee: Postmates charge 9% of the amount in total orders as for the convenience fees to customers. Also the customers are friendly to pay as postmates save their time of buying goods in outer and instead the quality goods reaches their doorstep on their demands.
Are you looking for clone this model or system from us for your restaurant and other online business. contact us sales@uisort.com