Hyperlocal Delivery Business: Today in the technology world, people are smoothly accessing day to day life through their smartphone. Because smartphones are changes for on-demand delivery business models.
People very easily buy their required groceries, medicine, food and renting furniture, so the demand for online delivery apps has increased. Now online users prefer to get all their basic required services at their doorstep so that they can save that amount of time.
These on-demand apps have allowed an online delivery business that is known as the hyperlocal delivery business. The hyperlocal business model is a perfect example of how technological advancements can unite with the traditional shopping methods.
What Is a Hyperlocal Delivery Business Model?
A hyperlocal delivery model refers to an on-demand business model that fulfills user demands at nearby stores instantly. The delivery of either a product or service happens through local stores via a digital platforms like the delivery of food, groceries, medicine, alcohol, beverages, etc.
Delivery models of hyperlocal make sure same-day delivery is within a few short hours or minutes. This same day delivery is the major unique-selling-proposition of the hyperlocal delivery business.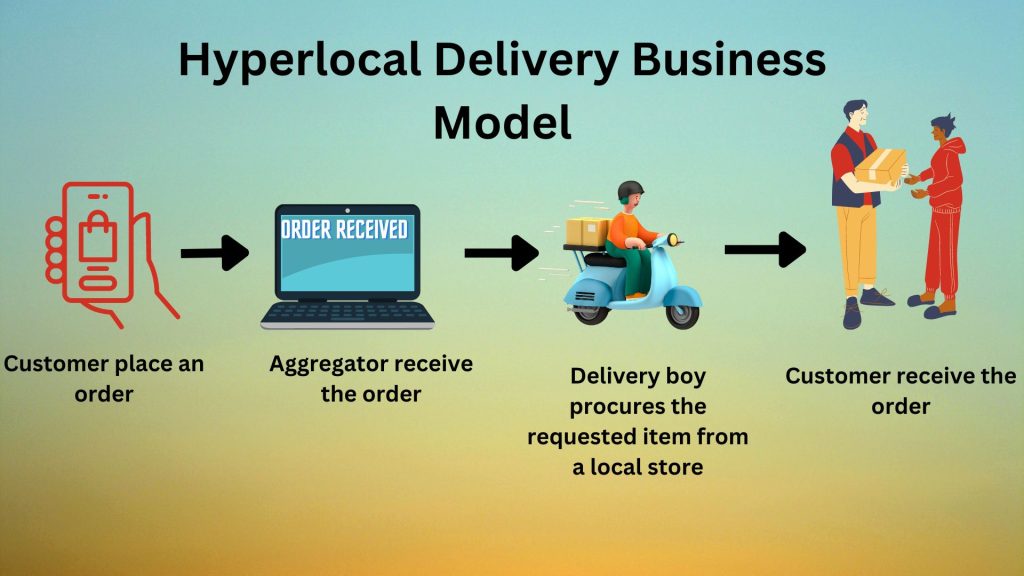 For example, if you want fresh groceries and you order through a hyperlocal delivery app like Instamart, Dunzo, etc. The on-demand app receives the order and is forwarded to the hyperlocal store and delivery partner.
Now, the delivery partner picks up your fresh groceries from the store and delivers you in 15-30 minutes. This is the process of hyperlocal delivery.
Why Opt For Hyperlocal?
The hyperlocal industry is going to see a significant rise in users as well as the marketplace due to lifestyle changes, urbanization, and more tech-savvy generations. The users want everything at a single click and hyperlocal is going to do just that.
E-Commerce Hyperlocal Marketplace:

The hyperlocal marketplace model is a perfect example of how technological advancements can amalgamate traditional shopping methods and come up with a unique formula for success.
A hyperlocal business is a platform to enable local offline businesses to reach out to their targeted users and make sure product delivery within a very short time. The service boundaries of a hyperlocal business could fall anywhere starting from a few meters to a few kilometers from the location of the business.
Given the very focused geographic spread of a hyperlocal space, the local stores are almost guaranteed visibility and users until they make sure good product and service quality. It makes sure product delivery is at a great speed and so from the user's very trusted store.
A hyperlocal marketplace works by offering goods and services to the users from the offline stores available within the proximity of a few kilometers. Think not only FMCG but also grooming, house maintenance and other services that are valuable for users.
So, if there is a restaurant nearby that does not provide home delivery for food, a hyperlocal business can step in and do the job. A mobile app works wonders for such types of business models.
There are marketplaces today that provide product delivery services 24 hours, which indeed is laudable, but a hyperlocal marketplace can do the same job in just a matter of hours.
Here, not only is the speed an attraction for the customer, but the fact that products come from well-known shops is also an added benefit.
How Does Hyperlocal Delivery Model Works?
If you are an offline business owner serving the consumers on a retail basis, shift your mindset to a digitized platform. Saying 'No' to this migration will cost your business dearly in future. In fact, 2020, 2021 and 2022 saw a sea change in people's behavior. And this pattern does not seem to change in the future. Experts predict this activity to be constant for a very long time.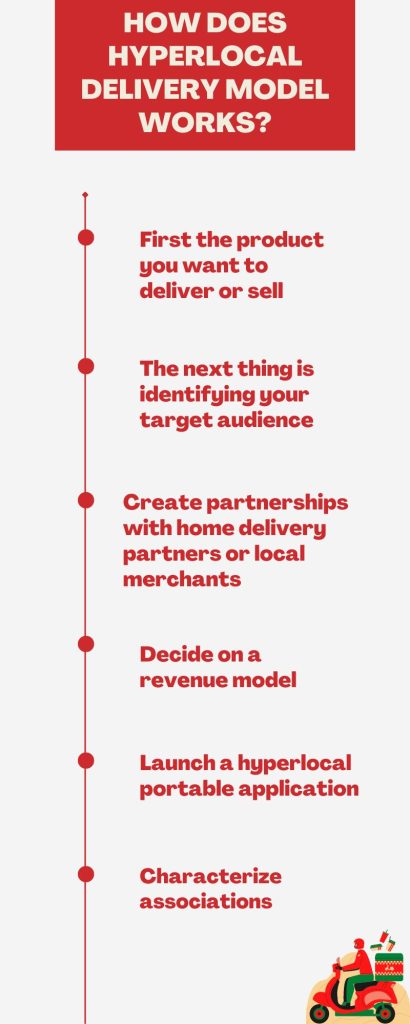 First the product you want to deliver or sell
The next thing is identifying your target audience
Create partnerships with home delivery partners or local merchants
Decide on a revenue model
Launch a hyperlocal portable application
Characterize associations
First The Product You Want To Deliver Or Sell 
The hyperlocal delivery business model starts when you start to think about what products or services you would select to deliver. You will start by delivering basic daily products, restaurant food, groceries, and vegetable items. For this, you can focus on the local geographical locations.
The Next Thing Is Identifying Your Target Audience 
Focusing on the audience is the next crucial point that comes to your mind. If you can focus on office professionals or college students who do not reside with their family members or old people who can't go to the market for daily items.
Create Partnerships With Home Delivery Partners Or Local Merchants
What you require to deliver and who will be your focusing customers is the next thing that comes is a pitch for the partnership with local businesses and delivery companies after figuring out.
You can create your own business without an immediate partnership with both of them or only go about as an aggregator of nearby grocery stores.
Like I have seen many supermarkets send their boys to deliver grocery products to the home. So you have to ask these local supermarkets to create a partnership and ask their delivery boys to deliver groceries to consumers' homes.
Decide on a Revenue Model 
You can cooperate with nearby grocery stores that will pay you a commission each time you pick up their stuff. This may expect you to limit to specific delivery partner in a specific area and in the long run, contain your operations.
However, you can charge clients a pleasure expense over the delivery charges. In case the request is too big, clients anticipate that you will have a small discount on the delivery charge, moreover comfort expenses will, in any case, cost you a few bucks.
Launch a Hyperlocal Portable Application
Create your hyperlocal delivery app. Build various apps for various features like drivers, shippers and clients for this situation. I checked out the web and found these layouts with fundamental highlights for client app, conveyance kid app and vendor app.
Characterize Associations
In the event that you get a significant measure of delivery orders, it will be commercial as delivery partners fare you per delivery and what remains is the delivery capital.
Contract or finance? You can get an businesses to do home deliveries for you, or you can hire a force of young delivery partners.
Building teaming up with nearby grocery stores, notwithstanding acquiring commission, will quicken the dispatch of the on-request delivery technique. That is, an expedient shipper accomplice will keep the delivery prepared and the delivery boys wouldn't be required to buy before racing to the delivery spot.
Benefits Of Creating a Hyperlocal Business Model
Admin Features In a Hyperlocal Marketplace:
The admin can add various ship areas and zip codes
The admin can set up the following various types of filters
Filter products by zip code
Filter products by state, country and city
Filter products by distance
Customer Features:
Auto geoloaction detection of the customer
Facility to change already specified location
Filtering products everywhere on the site based on the explored location
Validation at checkout
Vendor Features In a Hyperlocal Marketplace:
Sellers can add various ship areas and zip codes
Auto fetch the perfect location of the vendor
Sellers can edit/delete the ship location
Key Features Of a Hyperlocal Marketplace:
Auto-detection of users location
Shipment scheduling
Social sharing options
Product filtering based on location
Multiple online payment methods
Reviews & ratings for services & products .
Conclusion 
In today's world where it is so tough to capture users' attention with the sky-rocking competition, businesses have started to realize the value of offering quality consumer experiences and solving their issues.
In the future, hyperlocal businesses will be filled with vast opportunities. With the rise of the internet usage, people are always online and want everything at their fingertips. So it is just a thing of time before hyperlocal delivery business models replace our traditional ways to buy items completely online.