Nowadays online food delivery is more convenient to the eaters to get their food in their doorsteps. Online food delivery has in demand to grow their platform like Ubereats, Doordash and other food delivery platforms, due to this pandemic. Here, we are providing readymade ubereats clone software for the food delivery startups. Let us see more about our ubereats clone script for startups to earn more profits.

Who can start online food delivery business?
Entrepreneurs/ business persons can start their new online food delivery business in this career to earn more profits, the online food delivery business will not give any loss, and there will be only profits. In this pandemic situation, best choice to select this online food delivery business.
The restaurant owners can enhance their offline to online food delivery business by buying this food delivery script like ubereats clone and make their online delivery business high with online digitized medium.
What is ubereats clone script?
The growth of an online food delivery business has reached magnificently by the most top-notch food delivery companies like Swiggy, Zomato, Ubereats, and so forth are rolling over the world. In a one-box solution, the nectareon had decided to make a platform for entrepreneurs to carry out their online food ordering and delivery business.
Our Ubereats clone script comes with the Restaurant panel, Customer panel, Admin panel, and Driver panel. And our ubereats clone app is available with web, android and iOS platforms.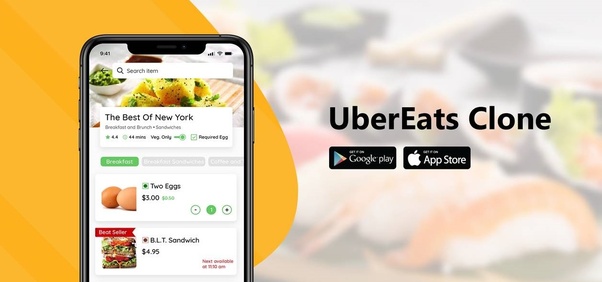 Ubereats business model
The ubereats app is both a delivery agent and a restaurant aggregator that performs two different ways:
In a single app for uberets clone uses a traditional food delivery model, listing partners-restaurants.
Ubereats clone also handles order delivery using its own logistics network to deliver orders from restaurants that don't have a delivery option.
The most notable features of this food delivery application include:
Order tracking
Delivery details
Recommendations
Advanced search
How the ubereats clone solution benefits entrepreneurs?
We are providing an entrepreneurs separate admin panel to check and manage the customers, drivers, and restaurant partners. Entrepreneurs can easily change the front-end content by your own in our admin panel.
If you're a restaurant owner, then there is no escape for you from the use of technology to leverage your business. Especially ubereats clone becomes vital for you as well to do the same, when all your competitors have jumped into the pool. You can opt for clone apps, saving your time and cost. If you are not convinced yet, then read on to understand how ubereats clone app can give you a leg up in your business.
Highly customizable and scalable
Ubereats clone apps can be customized as per your business needs. If you can customize your app so, you have a unique selling point that helps your business stand out.
Easy to launch
When you develop a ubereats clone app from scratch, it would cost you a lot of time and effort. On-demand business is all about how quickly you enter the market and serve your customer. In the development phase you are going to spend long time, then the purpose of building the food delivery app gets defeated.
Revenues in our ubereats clone:
Driver commission fee:
The amount that Foodtro says it charges their drivers are 25% (the admin can be changed their wish), but it actually takes a little more than that from their earnings.
Booking or services fee:
In our Foodtro, the admin can receive a commission fee from the restaurant partners on the cost of each item that is ordered by the customers.
Delivery fee or convenience fee:
Foodtro help the admin to charge a flat delivery fee from its customers for their order. The delivery charges will vary depending on the customer's location and availability.
Conclusion
Our ubereats clone script has core features for the food delivery startups for restaurant owners or entrepreneurs. The customization process will done based your wishes, if you want to check demo, features and more contact us: sales@uisort.com