Cleaning management software -First step you have registered your online cleaning business/company and ready to get started. Now you need to buy the required materials to start offering your cleaning service to your clients. Making sure you have the right material is critical success of your business.
Buying quality required materials and providing great service will make sure your customers satisfaction and repeat business. We have put together the list of material you will need to help you get started and stay organized.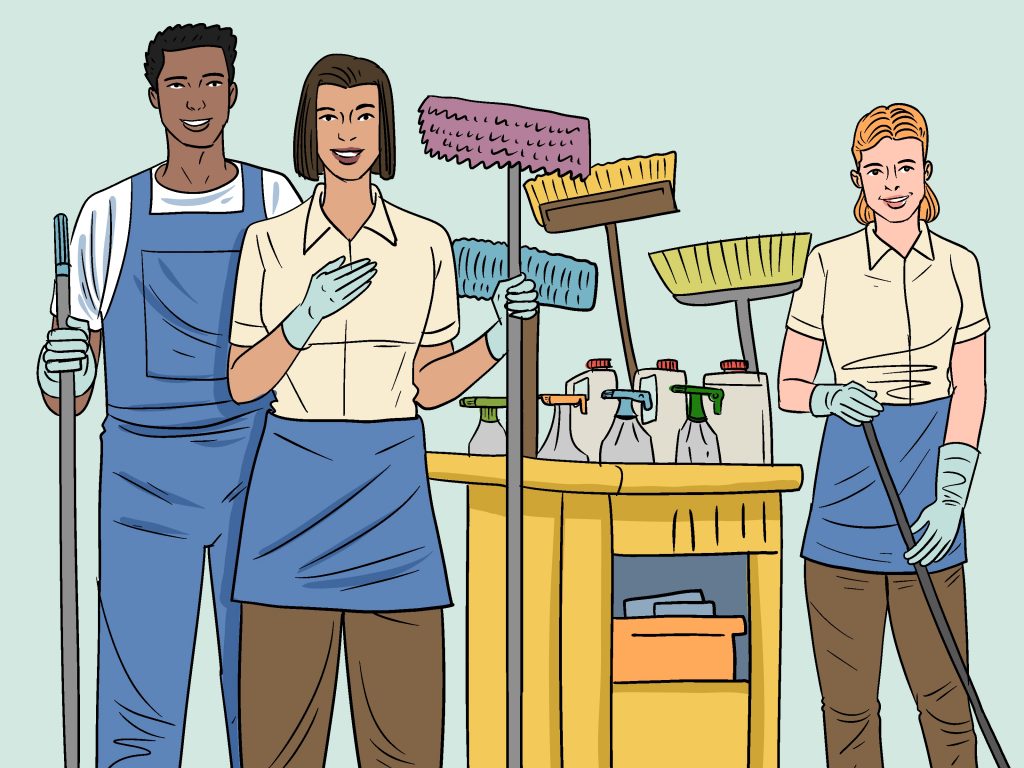 As you will be handling chemicals, so your safety and health is very important. So, let's start with those items first,
Masks for safety– It is very important for you to wear a mask to protect your clients, with 2020 being a year we have to live along pandemic. Mask also help you to avoid breathing in the chemicals.
Disposable gloves – It will protect your hands from harsh cleaners and any germs that you can pick up while cleaning. We truly recommend using new gloves every time to avoid any germs transmission from one customer to another customer while there are gloves that you can reuse.
Use Eye covering – You may want to use eye covering to protect your eyes from harsh chemical sprays.
Comfortable shoes – You will be on your feet for long hours, you need to make sure you wear comfortable shoes.
Shoe covers – It can help for to protect your footwear when you are performing a really dirty or construction cleaning. You may not require this one for every job.
Cleaning pinny – Isn't only protect your clothes to avoid stains, it also provides a lot of area for you to keep the elements you need during cleaning and saves you time going back and forth.
Cleaning box – It can be very helpful to hold all your cleaning supplies. Make sure the caddy you get is big enough to hold all the needed items. It should have dividers for various products, garbage bags and spray bottles.
Knee dressing – There could be many jobs that will need you to get on your knee to clean the surface. Knee dressing can help protect your knees, as you will be doing this for hours.
Cleaning management software system for floors
Vacuum cleaner – A good vacuum cleaner will go for long way. There should be no compromise on this, some vacuums can take care of grove floor to.
Carpet odor eliminator – Carpet cleaning may require for rooms that doesn't have pleasant smell or for the clients that have pets at home.
Broom with dustpan – Consider a carpet sweeper that has the dustpan split onto it. This comes in handy when you are carrying all your supplies.
Mop and dressing – You will need to consider mop for cleaning tiles, hardwood floor, etc. Some customers prefer using dusting mob then vacuum for hardware floors. Also consider the mops that can be easy to rinse as it builds up dirt. A bucket to rinse will also be needed.
Solution for floor cleaning – You can use all-purpose cleaner for the tiles and will need a separate hardwood cleaner for the hardwood floors. This will give the hardwood floors a shine that your customers will love.
Living room and bedroom cleaning system
Wood furniture cleaner – Using microfiber cloths. Warrant is a great one that adds shine and has fresh lemon scent.
Dust Storm– To clean the furniture and a long duster for fans walls.
Leather cleaner– Depending upon your customers furniture you will require a leather cleaner too.     
Kitchen and bathroom cleaning management software
Granite cleaner – The shinning granite surface will make the kitchen look very welcoming for your customers. Don't use multi-purpose cleaner for this as it can leave streaks after and doesn't look clean.
All-purpose cleaner –This material is really useful and can be used for cleaning disc and cupboard. This could act as a substitute to any bathroom cleaner.
The White distilled vinegar – It can be used to clean the glass by mixing with water and as all-purpose cleaner by mixing with baking soda. This low-cost material can become very useful.
Online Oven cleaner – Oven cleaning is arduous and you need right materials like easy-off profession vapour free max oven cleaner that does a great job.
Disinfectant cleaner – Is required to clean the tough spots in the bathroom. Material that comes with bleach is needed for this job. Clorox with bleach is special for this work.
You can also offer eco-friendly cleaning materials to your customers who are health or environmental aware or who have children's or pets at home.
Office and management
Business carts
Laptop/Pc and printer
Business phone line
Cleaning business software – cleaning business software isn't always considered the first priority on list but it can serve you and save time, stay assemble, look professional and make sure you get paid on time.
A cleaning management software to uisort technologies helps to you manage everything from scheduling express in one all place. With the carpet cleaning business software and the clean house provides a very personal service to your customers. It has repeat business and profit for you.