Doordash Clone: Day by day an online food delivery business has no end and its demand is so high. Most of the restaurants were getting tied with online food delivery app service like ubereats, doordash, and more to get profitable outcomes. We Nectareon has taken this in our mind and have designed a food delivery app like doordash to aid all startups and companies to meet their demands.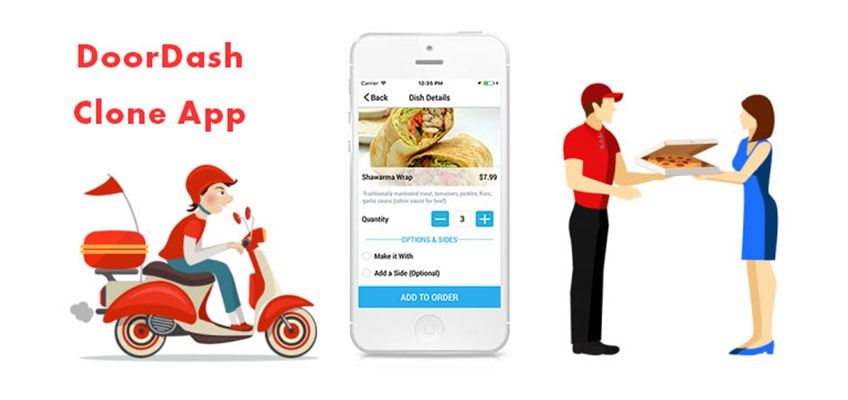 Our doordash clone script is a well-developed software for your business world to have prosperous results. It has the best business module that suits every entrepreneur and startup. Our food delivery script is available on both web apps as well as in mobile apps to meet customer's requirements.
Benefits of our doordash clone
If the restaurant owner has the delivery type options like the "takeaway or delivery" option. Using the takeaway option, the customer can order when they are willing to take their ordered food from the restaurant.
The customer can tip the driver by selecting the "add tip" option, in the checkout page. If customer tips the driver, the total amount will be automatically added to the total amount.
The payment preference can be selected by the admin from the available option. This feature also enables the driver and restaurant to pay the admin.
Customers can get in to the doordash clone script by using a phone number, email id, or social media logins like apple and facebook. The food delivery system allows only verified customers to enjoy the on-demand food delivery service.
In doordash clone, the customers can easily search their food with such options as sort, price, and delivery options.
The conformation regarding notification of the placing order and other updates of the preparation of the orders and getting an order at the doorsteps. Our team has especially worked on this to maintain the gleaming performance using firebase technology.
Restaurant owner can set their availability "accept orders" or "pause orders" with a simple gesture.
Users such as customer, restaurant, and driver can set and modify the profile as per their wish in the doordash clone app.
Both customer and restaurant can check out the driver what she/he is doing once the food delivery trip starts with the comfortable sit back and monitor relatedly.
We provide this option to the customer to start to add their restaurant on their favorite list.
To give a reward for food delivery services, we have provided driver and customer, restaurants to express their feelings using a review and rating option.
We have provided the option to pay by Cash, Wallet, Debit Cards and PayPal to make payment simple.
Why choose nectareon for food delivery script?
We install our script to your server at free of cost, once the purchase is completed. We help you to make your food delivery script live within a short span.
We submit your apps which are bought from us. We give you complete support to submit iOS apps and app store and android apps in the play store.
We continuously work to deliver high quality hassle free products. In case of any critical fault, it's our pleasure to support you immediately free of cost within the mentioned support period in the purchase package. Otherwise, we will make sure to include it in our near future updates.
We are always ready to support you in all means of communication channels. Our on-time support includes non-technical and technical support and maintenance from the team.
You will be afforded with a complete source code, based on the packages selection. 100% source code means the clients have all the privilege to edit and change the source code in accordance with their ideology too attract relevant customers.
Our experts crafted all the features of the app in native languages of iOS & android to provide a compatible delivery service and make a presence in all the types of technologies.
We are always here to support you even after the purchase is completed. We wholeheartedly accept if any rejection happens after app submission and we tend to develop a better food delivery app which will be accepted.
Our expert team will help you for registration of accounts on any third party sites like Payment gateway, SMS gateway, server and much more.
It is important to have your logo and company name everywhere. In the admin panel you can remove your name and logo from everywhere visible and replace it with yours which helps in building your brand.
Four panels available in our doordash clone
Administrator: Web panel to monitor and manage your website.
Restaurant: Android, iOS, web panel                         
Customer: Android, iOS, web panel
Driver: Android, iOS, web panel
Conclusion
Uisort Technologies Pvt Ltd is the best web and mobile app development company. W gives clients an extensive full support with its 24/7 service. If you are ready to start an online food delivery business feel free contact us to check more details.