Alcohol delivery app development: Shareholder are raising a toast to triple-digit growth witnessed after online alcohol delivery app development. Not many concept when the lockdown was imposed that alcohol delivery on online would be a huge success. Last one year, the online market matured 10X faster than spirits sales overall. An unprecedented growth was recorded in sales.
Alcohol delivery app development market share
The average home delivery order of alcohol has grown after the COVID-19 crisis which led popular alcohol delivery apps like wine, liquor and others to increase their workforce by more than 50%. For home delivery service enlargement of alcohol delivery laws has also boomed the average dollar sales which increased by 30% since last one year.
Here are some interesting facts about alcohol delivery apps development:
Online delivery apps have jumped the order size of the product with total cost per order by a plunge of 20%.
Group meetings booked specifically for virtually in happy hours and drinking events are clocked in at more than 296% than usual, according to scheduling platform doodle.
The globally alcohol delivery industry is anticipated to reach $1,685 billion by 2025, registering a CAGR of 2.0% from 2018 to 2025.
App monetization model for alcohol delivery app development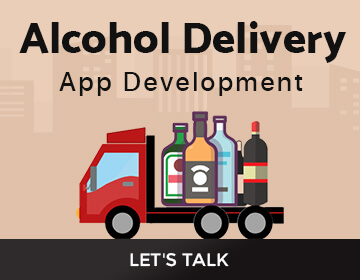 General features of alcohol delivery app development process
Customer app features
Social register/sign in: The customer should be able to easily register to the delivery app using social media accounts, contact number or email.
Browse liquor shops (if marketplace app): Allow customers to search nearby liquor shops and view their details like name, address, ongoing offers, items listed, ratings and reviews, etc.
Browse liquor (if aggregator app): Allow customers to search and browse liquors in the app by filters like alcohol type, brand, size, taste, expert reviews, and so on.
View detail: A detail page can help them understand more about the liquor they are ordering.
Make favorite: If customers can mark alcohols in their favorite list, it becomes quicker and easier for them to order it next time.
Manage profile: Customer profile management option include updating a phone number, email address, delivery location saved, and payment card details among others.
Place order: The customer can see all the products added to the cart, see their pricing, taxes, and the total bill. Apply any coupon and eventually, place the order.
Real-time order tracking: After placing order, the customer should be able to track the order in real-time and get notification for the same.
Add to cart: After selecting single/multiple liquors, the customer can add the product to the virtual cart.
Instant billing: After placing order, customers should be able to make online payment through credit/debit cards, eWallets, PayPal, or other country famous payment gateway.
Customer assistance: Handling complaints is as important as selling your products. Customers support through in-app chat, phone and social media will make you more authorized and increase your brand loyalty.
Delivery boy app
Active/inactive: The delivery boy should have the liberty to mark himself available/unavailable by switching on the toggle between inactive/active.
Accept/Reject orders: The delivery boy can receive an order request, he can accept/reject the order request.
View customer location: Delivery boy can view the customer delivery location and other details like phone number.
In-app chat: Delivery boy can chat to customers for confirming the delivery location.
Order history: Delivery boy can see the total orders delivered by him.
Check earning: Delivery boy can check total earnings made by online deliveries (week, day, and month-wise).
Liquor shop owner app
App signup and login: Liquor shop owner should also be able to easily signup to the app by entering details like registration license, email address, shop details, contact number, etc.
Manage add-ons: Liquor shop owner should be effortlessly able to manage (update, add, delete) add-ons ordered with liquor.
Manage liquor products: Liquor shop owners can online manage the products by adding, deleting or updating products to the item list.
View shop earnings: Ability to check earnings (day, week and month wise).
Manage liquor price: Liquor shop owner can manage (add, update, delete) prices of the liquor added to their list.
View feedback: They can view the rating or feedback given to them by customers post order delivery.
Admin panel
Dashboard: An interactive dashboard to view total ongoing orders, total customers, active drivers, total earning, etc.
Manage liquor products: Admin can manage liquor products by updating their details, deleting or adding them from the lists.
Manage pricing: Admin can manage the price of the products added.
Manage categories: Admin can manage (add, delete, update, edit) product categories mentioned in the app.
Earnings management: Admin can check total earnings and set the commission rate for different stakeholders.
Manage offers: Admin can manage offers, coupons, discounts, loyalty programs, etc.
How much does it cost to develop an on-demand alcohol delivery app?
The total cost involved to develop an alcohol delivery app depends on several factors including a number of functionalities, features, third-party integrations, app complexity, and more. Furthermore, several other factors that account for app development cost, the major ones include:
iOS and android native app development,
Web panel development,
Backend development,
UI/UX design
Application maintenance
Quality assurance
Project management.